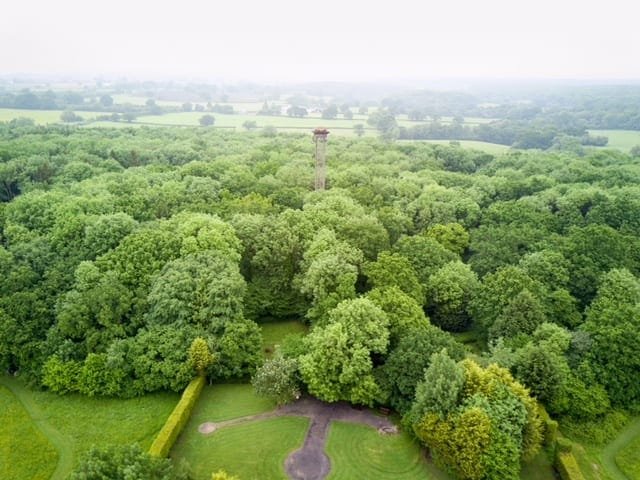 Jul
19
Optimisation – Customer Review
19th July 2018
0 Comment(s)
Lady's Wood Optimisation day.
"It's beyond a doubt that all knowledge begins with experience"
In my quest to better my shooting, a good friend suggested that I make an appointment to visit Lady's Wood shooting school, near Chipping Sodbury in Gloucestershire. At this stage I want to point out I have no affiliation with Lady's Wood, I am just a very happy customer.  I've shot on and off over the years to varying levels of success, however with a chance of a half gun at a local shoot the following season I was keen to try to learn to shoot properly. I'm not aware ever of having been taught to shotgun shoot and recent visits to a nearby clay shoot had been very frustrating.
Plenty of shooting establishments tell us how they are the premium centre of excellence, and Lady's Wood certainly is one of the best… Except that's not all, Lady's Wood is different, the experience is on a personal level, their attention to detail is exemplary which was evident from my first dealings. The trip for me required some logistics as an overnight stay would be necessary. I chatted with Chris Hanks, the school manager who recommended me to their family favourite "The Rectory", a very reasonably priced boutique hotel in Malmesbury some 15 mins drive from the ground. A warm welcome was made even on my late arrival and after a delicious breakfast from local produce I was set for my intense day of learning. One to remember to take the wife to!
I had booked a full day session (which I later learnt would be the inaugural "Lady's Wood Optimisation day") with Ernie Hemmings, Lady's Wood owner. The day was to consist of gun mounting, pattern plate testing and the shooting proper. Tea & coffee, lunch and some delightful homemade cake along the way.
"Ernie's sixty years of shooting experience has been wide and varied. His love of the sport started at a young age"
Ernie prides himself in building relationships and had called me a few weeks earlier to start to develop that relationship. Having researched the Lady's Wood website, I was keen to glean as much of Ernie's knowledge as possible.
The school is named after the wood in which most of the layout is housed, 55 acres steeped in hunting history bordering the Kings own hunting grounds in times gone past.
I arrived in good time and was greeted by Ernie, Chris, Helen and the team in the Shoot Lodge, a Cotswold stone building, a drawing room with open fireplace and inviting armchairs, the smell of fresh coffee brewing, oak beams and flagstone flooring, A rich yet airy interior which housed the magnificent gunroom (Sportarm at Lady's Wood), shop and dining room. Whilst Ernie and I chatted, my gun was taken away for choke measuring, then we were on to gun fit, gun mount, eye dominance and stance. We ascertained that I should shoot with my left eye shut and that maybe the fixed choking in my gun was little too tight for the shooting I aspired to do.
So on to the pattern plate, I'd never done this and was interested to see the results, Ernie and I soon discovered that due to an old shoulder injury I was always left of target. It was easy to see that my choking was tight not just in theory and that a more open choking would be beneficial.
One of the first things you notice at Lady's Wood is just how well kempt the grounds are. It's like shooting in a stately home garden. Our first trap was a DTL bird, …the trap I'm sure under a cherub statue in a mosaic pond… With a poplar avenue in the distance I did as I have on many occasions before, call pull, aim, check, recheck, pull trigger…miss! Ernie carefully taught me how to establish line of sight between eye, muzzle and target, and to trust my instinct to shoot quicker. It wasn't long til I was shooting the birds cleanly within 25 yards as opposed to 45 yards.
Work Hard, Play Hard, Rest Hard
It's a well known fact that in order for your brain to digest information, plenty of rest is required. I was working hard trying to absorb all the information and was keen to keep shooting however Ernie was adamant that we should rest regularly. A chance to recap, a chance to recoup, a chance to continue to develop the relationship.
Following coffee and chats about our engineering roots we walked further into Lady's Wood where the school's conservation work was evident with small hand woven hazel baskets protecting young wild orchids dotted along the path. Quartering and driven birds from a Cotswold stone grouse butt adorned with heather were next to test the new technique.
After a tasty lunch at the lodge we ventured down to the "tower" area of Lady's Wood to try out some medium height birds. We met Richard the grounds manager who would be our trapper for the medium (60') height tower. Ernie asked him to throw a few testing clay's at random after the initial practice. With a knowing smile and a cheeky glint in his eye he sauntered off to take up position.
I naturally over lead the first birds but after some no nonsense Ernie adjustments I was soon shooting them confidently. Richard then released a volley of clays, left, left, middle, left, right and so on and so forth! It was great fun!
Small touches make all the difference
Next on the agenda were some longer distance quarry. To get to our next stand we had to pass by the 120' High Tower stand which on the day was a part of the legendary Lady's Wood challenge. All the staff are equipped with walkie talkies and Ernie sent a message to his counterpart to see we if could walk past the shooter, I had thought it was for safety reasons but I later found out it was to ensure that the shooter competing had the best chance to achieve their very best at the stand they were on, no distractions, no chatter, no heavy footprints! Small touches…
We took an alternative route, that lead us past some of Richard's immaculately presented cotoneaster bushes to shoot some even further away birds, Long crossers and overhead. I loved the challenge of these and was hitting them with surprising accuracy.
The day was soon over, some five hundred trigger pulls completed, many a smile and plenty of information for the grey matter to digest.
For me the "optimisation day" was perfect, Ernie and his team made time for me to ask my (many) questions and the day allowed time for us to put in to practice what I had been taught. Upon returning home I shot my best round of clay's ever, doubling my score of the last few outings.
It's like your favourite restaurant
I whole heartedly recommend Lady's Wood to all shooters, game or clay, experienced or not. It isn't just a shooting school, it is so much more, just like a favourite restaurant which doesn't turn tables, Lady's Wood is there for you, their attention to detail affords you time to learn, time to absorb, time to enjoy the experience.
Ernie has called me a few times, "How's your shooting Will?" in that mild west country drawl. On email a few weeks later I received a reminder of the points raised during the day to help me on with my shooting.
I'm looking forward to my next Lady's Wood visit, a few days prior to my first shoot of the season, a chance to recap, to meet friends old and new.
Mr Overton, Isle of Wight.
To book your optimisation lesson please call 01454 294546 or email shoot@ladyswood.co.uk