Here at Lady's Wood, we have a wealth of experience hosting a range of corporate entertainment and events. Our beautiful woodland setting, range of sporting stands and prime location between the cities of Bath and Bristol make us the ideal venue for your next corporate day. Our welcoming environment allows us to create bespoke events, from a full day's shoot to a combined shoot and business agenda.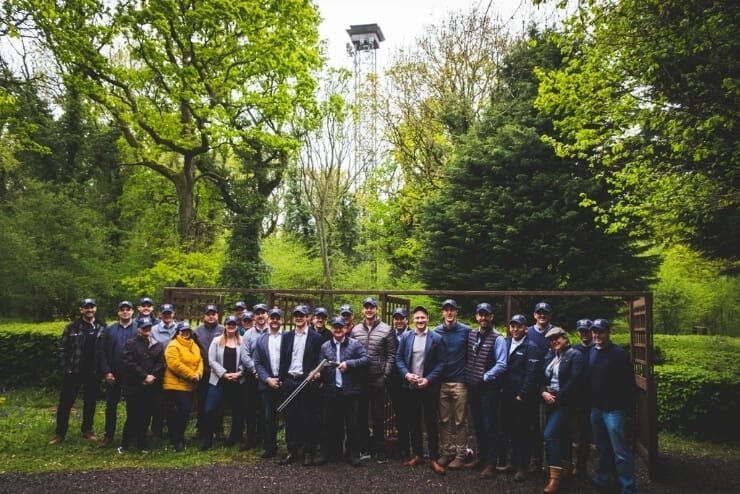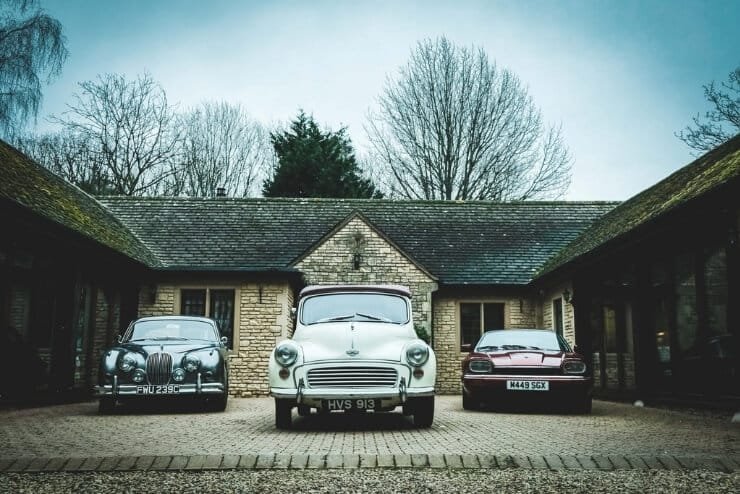 Corporate Entertainment Facilities
We've hosted events for businesses from a range of industries. This includes the financial sector, motor industry, construction industry, legal sector and the world of IT, to name a few. The welcoming Cotswold stone lodge, tastefully decorated with shooting memorabilia and sporting art, will help you to relax right from the moment you arrive through to your departure at the end of the day. Our shooting lodge is home to excellent meeting facilities including our large table that can seat up to twelve people. For more informal meetings we have comfy chairs around a roaring fire in season. Other sites are also available with prior arrangement. This includes private venues and stately homes.
A range of catering options can be provided, from bacon rolls to a gourmet three-course meal. Michelin star level catering can always be arranged for that extra special occasion.
Bespoke Events and Multi-Activity Days
A bespoke event at Lady's Wood is a truly unique experience. Whilst our packages listed below will give you some ideas to get started, our team loves nothing more than creating bespoke events that entirely suit your needs.
Our grounds and facilities lend themselves to all manner of corporate entertainment, including multi-activity days. Why not combine a morning's shoot with an afternoon of archery? Or perhaps some air rifle shooting followed by a drive in a classic car and lunch at a Michelin star restaurant? We're full of ideas and have a wealth of vendors and suppliers at our fingertips to help create a truly unique event.
Our reputable sporting agency hosts a number of game days throughout the season and simulated game days in the spring and summer months. These days are the perfect alternative for those looking for that extra-special corporate entertainment to really 'wow' your clients or team. As with all entertainment provided by Lady's Wood, we're happy to work with you to come up with a game or simulated game day that suits your needs.
Book your corporate
entertainment
Get in touch to book corporate entertainment. Use the form below or call us
on 01454 294546.
Packages
The packages below can be adapted to suit individual requirements. We also have the capacity to host events for larger groups. Bespoke packages can be arranged by contacting us here or calling us on 01454 294546.
PACKAGE

MINIMUM GROUP SIZE

SUGGESTED ITINERARY

Taster – £50pp

An hour and half session inclusive of light refreshments on arrival, clays, cartridges, safety equipment, instruction and gun hire (if required)

6

25 birds per person

Partridge – £100pp + vat

Two hours of shooting inclusive of clays and cartridges used. Includes bacon rolls on arrival or cream teas before departure.

6
9.30 – Arrival for tea and coffee

9.50 – Safety briefing and introductions

10.00 – Shooting with instruction commences

11.30 – Supervised knockout competition

12.00 – Prize giving with tea and coffee

12.30 – Clients depart at their leisure

Pheasant – £150pp + vat

Three hours shooting inclusive of clays and cartridges used. Includes a standard one-course lunch (please call for menu suggestions)

6
(Format dependant on experience)

9.30 – Arrival for tea and coffee

9.50 – Safety briefing and introductions

10.00 – Shooting with instruction commences

11.30 – Woodland break

11.45 – Supervised 25 bird or knockout competition

12.30 – Supervised pheasant flush or knockout competition

1.00 – Prize giving with tea and coffee

1.30 – Lunch – clients depart at their leisure

Grouse – £175pp + vat

A full day's shooting inclusive of clays and cartridges used. Includes a standard two-course lunch (please call for menu suggestions)

12
9.30 – Arrival for tea and coffee

9.50 – Safety briefing and introductions

10.00 – Shooting with instruction commences

11.30 – Woodland break

11.45 – Supervised 25 bird competition

12.30 – Supervised high tower knockout competition

1.15 – Pheasant flush

2.00 – Return to lodge for lunch and prize giving – clients depart at their leisure