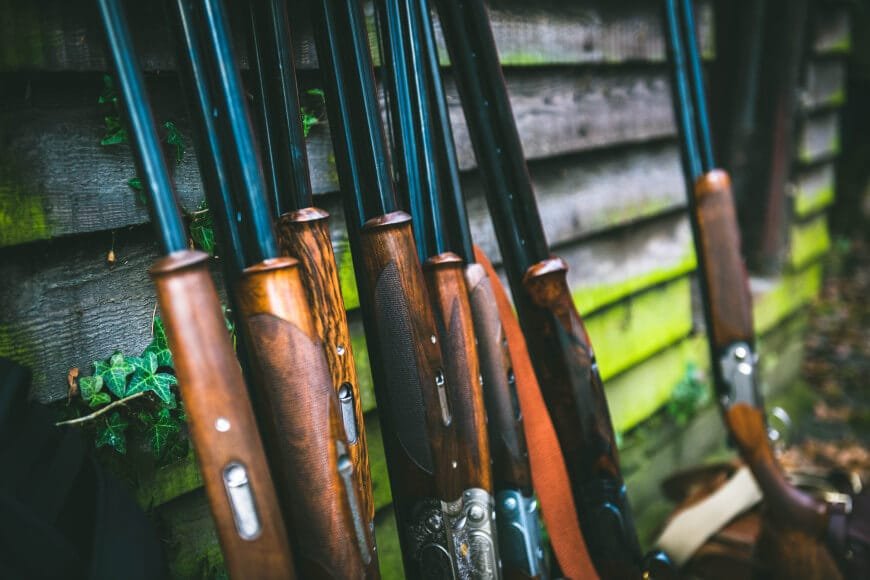 Jan
02
Lady's Wood Guide to Getting Your Shotgun Licence
2nd January 2020
0 Comment(s)
If you've recently got into clay or game shooting, you may be considering buying your own shotgun. Before you can do this, you'll need to get a shotgun licence. If you're applying for your licence for the first time, the process may seem a little daunting. Luckily, we've put together this handy guide so you can go into it fully prepared.
Why get a shotgun licence?
Without a shotgun licence, you can't own a shotgun in the UK. If you want to shoot more regularly – perhaps you've had a few lessons and have caught 'the bug' – having a licence and owning your own shotgun will prove very useful. If you're attending a game shoot or even a simulated day, shooters will generally bring their own gun. Additionally, some shooting schools and grounds will only offer practice sessions to certificate holders with their own shotguns. This obviously limits non-certificate holders. 
If you're planning ahead – perhaps looking at purchasing a shotgun in six months to a year's time – you'll want to start the ball rolling as soon as possible. The process of getting your licence can take longer than you think so it's wise to get ahead of the game.
How to apply
A shotgun certificate is valid for five years, after which you will have to apply to renew it. The cost of your first certificate is £79.50, with renewals costing £49.
Shotgun licence applications can be made via your local police constabulary. There are two ways to apply for your shotgun certificate: online or by post. However you choose to apply, you must complete an application form, provide one recent passport photograph and the details of one referee. A referee cannot be a member of your family, a serving police officer or a registered firearms dealer. The application will ask you to give details of where you intend to store your shotgun(s).
You must declare any criminal convictions on your application – this includes traffic offences such as speeding. You must also disclose your GP's contact details, as well as any relevant medical information including present and historical physical and mental conditions. Some GPs may charge you for this, depending on your own individual GP practice. The police may wish to get in touch with your GP to confirm your medical history or for a further medical report. 
You may find it helpful to have a few shooting lessons before applying as this will give you a better understanding of general shotgun usage and important safety aspects. Lady's Wood offer a range of tuition options, including individual and courses of lessons.
What happens next?
The time it takes to process your application will vary depending on your location and local police force. Once your application form has been processed, an officer from your local force will need to visit your property. The officer will ask you about your reasons for wanting a shotgun certificate and the security measures you will take. Once they are satisfied, they will report their findings to the Chief Officer of Police and your shotgun licence will be granted. 
What security measures should I put in place?
You will need to show that you have taken relevant steps to ensure your shotgun can be housed safely and securely at your property. Different police forces may have slightly differing views on what this means. Generally, a purpose-built gun safe or cabinet is the most secure option. This should be secured in a way that makes it difficult to remove from the property, usually by bolting it to the floor or a wall. It's best practice to house your gun cabinet in a room that is not visible to casual visitors.
Buying your first shotgun
So, you've finally got your hands on your shotgun certificate – congratulations! You're probably eager to get to your nearest gun shop and purchase your first shotgun. Before you do, it's important to consider what you want to get out of your shotgun. This will inform the type of gun you will buy. 
Purchasing your first shotgun from a reputable gunroom such as Sportarm at Lady's Wood will ensure you benefit from the knowledge and advice of industry experts. They will also be able to advise you on essentials such as general gun care and maintenance, as well as other shooting accessories you may wish to purchase. 
How many guns can you have on one shotgun licence?
There is no limit to how many shotguns can be held on a certificate. You do not need to get another certificate for each new gun you buy. You must, however, inform your local police force within seven days, each time you acquire or sell a gun.
Our top tips
It's helpful to have a few shooting lessons under your belt before applying for your licence. This will give you a better understanding of the 'basics' of shooting. It will help you decide if you are fully committed to obtaining your licence before starting the often-time-consuming application process. Lady's Wood offer lessons to beginners and more experienced shooters alike. During your lesson, our friendly and knowledgeable instructors will be happy to answer any general shooting questions you may have. 
Following on from this, it's also wise to ensure you have a basic grasp of general firearm safety. A reputable shooting instructor will ensure you have a secure and intentional knowledge of gun safety during your clay shooting lesson. 
If possible, try to have your gun cabinet in place before your visit from the police. This may speed up the process as they can check it meets safety regulations during this visit. Your certificate will then be posted to you once approved. If not, your licence will be delivered by an officer once they are satisfied you've taken the correct safety measures.