Dec
20
Simulated Game Day at Hay Lane Farm with Lady's Wood Sporting Agency
20th December 2019
0 Comment(s)
A simulated game day at Hay Lane Farm is the perfect chance to experience the fun and thrill of a day in the field in a beautiful Gloucestershire location for a fraction of the cost of a game shoot. 
A working farm in the heart of the Cotswolds
A simulated game day at Hay Lane Farm consists of a thrilling mix of steep banks and wooded hills across its 300 acres. If you look closely, you might be able to spot our infamous Lady's Wood Extreme Tower! This Cotswold beef farm is also home to a high bird syndicate during the game season. A simulated game day at Hay Lane Farm features a wide variety of drives, using the wide ranging terrain to its full advantage.
Simulated Game Day at Hay Lane Farm
Hay Lane sim days include four exciting drives across the farm, simulating both pheasant and partridge. These days are priced at £175+vat per gun. This price includes up to 3,500 clays, refreshments and a two-course lunch at The Royal Oak, Leighterton (guns to provide their own cartridges – FIBRE WAD ONLY. These can be purchased directly from Lady's Wood if needed). We're also happy to assist you with the finer details such as gun hire, instruction on the peg and travel/accommodation arrangements as required.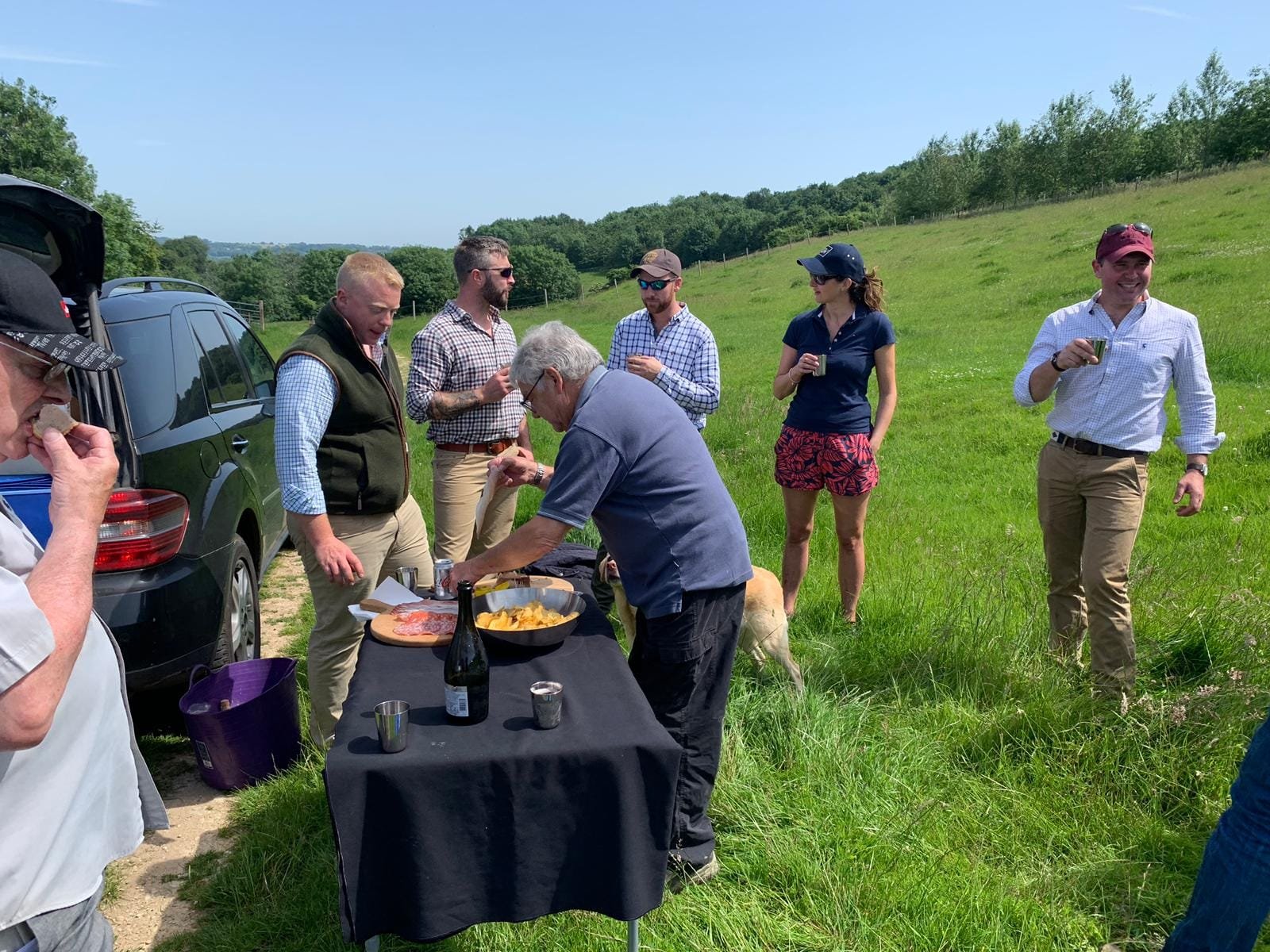 Hay Lane Farm Simulated Game Day Itinerary 
9.00 – Meet at The Royal Oak, Leighterton for bacon rolls and coffee before a safety briefing and the all-important drawing of pegs!
10:00 – Depart for Hay Lane Farm, just a short drive from The Royal Oak.
10.30 – First drive, Fishponds Bank. A gentle partridge drive to ease you into the day's shooting. 
11:00 – A short drinks break after the first drive before moving on to the second drive of the day.
11:30 – Second drive, Poplars. A High bank showing a high volume of mixed partridge and pheasant. 
12:00 – Time for elevenses. A selection of soft drinks will be available along with light snacks. 
12:30 –  Third drive, Kenny's Stones. A high pheasant drive set in open fields. 
13:00 – Move off for a final drive.
13:30 – Fourth drive, Masons Tip. An extreme high pheasant drive where birds are driven from a high-sided valley over the awaiting guns. 
14:00 – Return to The Royal Oak for a two-course lunch.
Watch a recent video to see some of the action from a Hay Lane sim day.
Hay Lane Farm sim days: How to book
Lady's Wood Sporting Agency hosts a limited number of sim days at our Hay Lane location throughout the spring and summer months. Our availability page contains all the information regarding individual and full team days. We can also arrange full team days for a minimum of ten people on alternative dates. Our Hay Lane Farm simulated game days are incredibly popular and are generally fully booked each year. We advise getting in touch as early as possible to discuss your requirements.