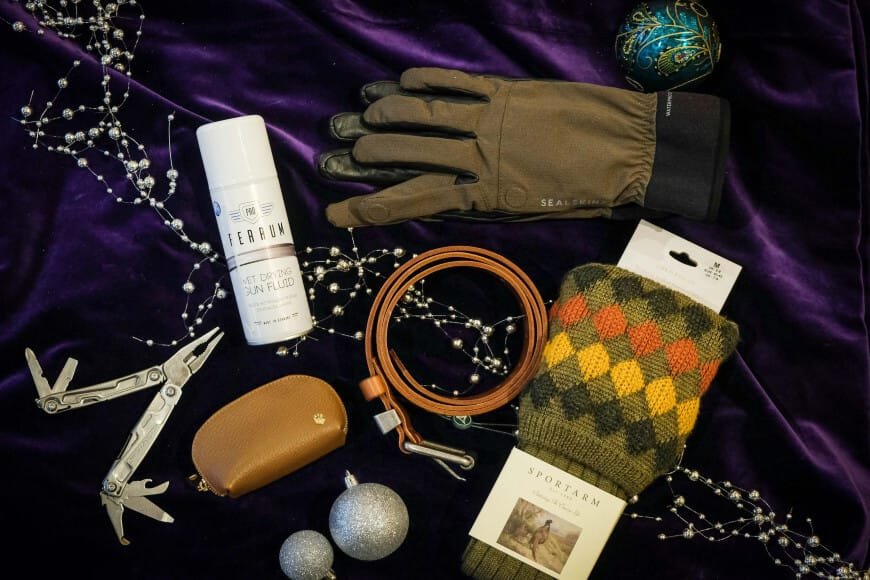 Dec
10
6 Christmas Stocking Fillers Under £60 from Sportarm at Lady's Wood
10th December 2019
0 Comment(s)
It's that time of year again! Perhaps you've not even thought about starting your Christmas shopping yet or maybe you just have a few bits left to buy. Whatever your plans, Sportarm at Lady's Wood have got you covered. We've rounded up our six favourite Christmas stocking fillers for under £60 so no last-minute panic-buying necessary – hooray! 
Our Christmas stocking fillers round-up – 6 gems under £60
Pennine Socks – £46.99
No Christmas stocking would be complete without a pair of socks or two. These high-quality socks from Pennine combine a high wool content with a touch of nylon, creating the perfect blend of warmth, comfort and hard-wearing construction. Available in multiple sizes and an array of colours (from traditional to the bright and colourful!). 
Fairfax & Favor Coin Purse – £45.00
A classic design from the ever-popular Fairfax & Favor. A coin purse always comes in handy and this compact leather version from this fashion-forward British brand provides the perfect balance of practicality and style. Available to purchase in store in black and tan. 
Schoffel Belt – £49.95
A classic choice for the man in your life! Available to purchase in two colours – tan and dark brown – and multiple sizes, this fully leather belt from Schoffel will never go out of style. 
Pro Ferrum (200ml) – £15.99
Here at Sportarm at Lady's Wood, we can't get enough of the Pro Ferrum Wet Drying Gun Oil. Unlike traditional gun oil, Pro Ferrum is a complex fluid. It features a range of active ingredients that work together with a host of innovative properties. Pro Ferrum has the ability to neutralise fingerperint acids and dissolve the early signs of rust. It is also auto-emulsifying, absorbing water automatically and preventing direct contact with a gun's metalwork. A little goes a long way, with the 200ml bottles being the largest on offer and giving the best value for money. Find out more about the benefits of Pro Ferrum. 
Leatherman Rev Multi-Tool – £49.95
With the Leatherman Rev, you can carry an entire toolbox in the comfort of your pocket. This fantastic multi-tool features an incredible 14 tools, including knife, screwdriver, ruler, pliers and bottle opener. Sportarm at Lady's Wood also stock a range of other Leatherman products.  
Sealskinz Sporting Gloves – £54.99
These sporting gloves from Sealskinz have been in very high-demand this season and it's easy to see why: breathable, wind- and water-proof, with leather palms to aid grip and detachable thumb and fore fingers to allow ease of safety catch and trigger use. They also offer heavy-duty protection with snug fleece-lining to keep your hands warm on even the coldest winter's day in the Great British countryside! 
All our Christmas stocking fillers are available to purchase in store. We also stock a whole host of other accessories, tools and clothing, for the shooting enthusiast in your life. Spotarm at Lady's Wood is open Tuesday – Saturday, 8.30am – 5.00pm so feel free to pop in and browse our extensive gunroom and shop. A friendly member of the team will be happy to assist you with all your Christmas present buying needs. Don't forget, Lady's Wood Shooting School also stock a range of shooting gift vouchers.