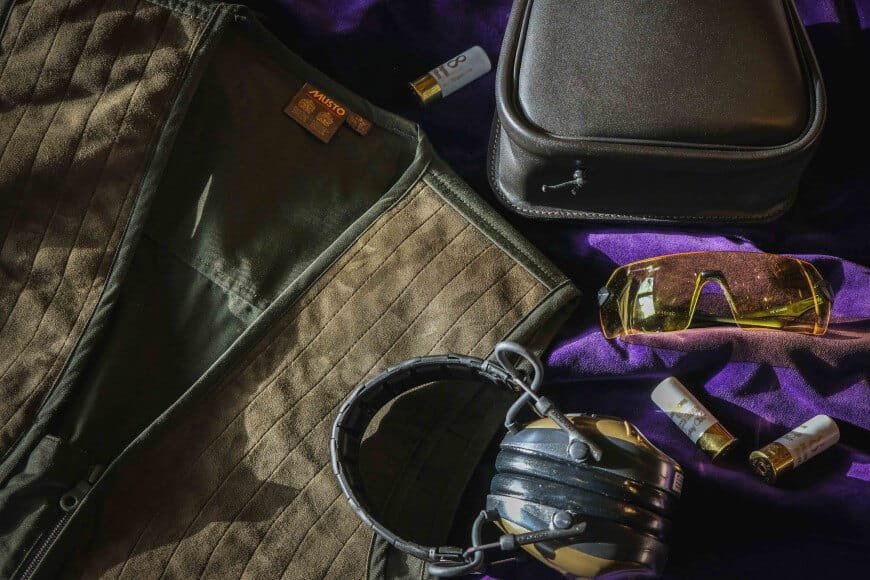 Dec
18
Clay Pigeon Shooting: What to Wear
18th December 2019
0 Comment(s)
If you're new to clay pigeon shooting, you might not know where to start when it comes to kitting yourself out. Luckily, we're here with our handy guide 'Clay Pigeon Shooting: What to Wear' to clue you up on the essential kit. 
Cap/Hat
Safety is paramount when considering clay pigeon shooting and what to wear. A cap or hat will protect your head from falling clay and also prevent glare from the sun. 
Ear defenders
A good set of ear defenders is essential for both clay and game shooting. There are a huge array of options available to suit a range of budgets. It is generally down to personal preference whether you plump for over the ear defenders or in-ear plugs. Sportarm at Lady's Wood stock a range of passive and electronic over ear defenders, with prices of electronic pairs starting at £89.99 and going up to £185. Basic in-ear plugs are available but for the best protection, we recommend Vario Hearables.
Eyewear
Again, there are a huge array of eyewear options out there but by far and away our bestseller here at Sportarm at Lady's Wood is the Evolution Matrix Four Set Glasses. These glasses offer excellent value for money, with four sets of lenses that can be easily changed to suit changing light conditions whilst also providing protection from the falling clays and shot.
Clay shooting vest
There are a range of clay shooting vests available on the market for you to choose from. These generally have large pockets for easy access to cartridges and will often have a suede shoulder patch for your gun to sit on. Some shooting vests will also have a line on the breast specifically for FITASC shooting. 
If you don't like wearing a shooting vest then a cartridge pouch is a great alternative. These sit on your belt and are available in leather and canvas options. 
Shooting bag
Not only will a shooting bag hold your excess cartridges it also comes in handy for storing all your other shooting accessories such as your glasses, spare chokes, a small towel and any other sundries. 
Other essential clay shooting clothing
When it comes to general clay shooting clothing, it's really common sense. Unlike game shooting, there's no particular etiquette to adhere to so it's really all about dressing appropriately for the weather. Extra layers are a good idea, that way you're always prepared for the unpredictable British climate. Not all clay grounds will have level paths so consider sturdy, sensible footwear to support ankles on undulating ground. 
Sportarm at Lady's Wood stock an extensive range of clothing and accessories suitable for clay shooting. Our knowledgeable and friendly team are on hand to guide and advise you so you can feel confident in your purchase. Lady's Wood Shooting School also provide clay shooting lessons in our 55 acres of woodland.