Oct
06
Lady's Wood clay pigeon shooting tips for beginners
6th October 2020
0 Comment(s)
Have a lesson with a qualified instructor
If you're a complete beginner, it's important you find a clay shooting ground that offers tuition and book yourself a lesson with a qualified, reputable shooting instructor. This will ensure you don't pick up bad habits that will be harder to break further down the line. Here at Lady's Wood, all of our instructors are APSI-qualified and have lots of experience instructing shooters of all abilities and experience-levels.
Safety first
Above anything else, gun safety is paramount. The easiest and most consistent way to ensure you are always safe is to be muzzle aware at all times.  This means to be aware of where you are pointing your barrels (in a safe direction, NEVER at anyone) at all times.  Whether this is when closed, loaded, unloaded, in a slip, broken or taking it in and out of a gun rack. 
Eye dominance
In order to ensure you can properly follow the trajectory of a clay it is important to determine your dominant eye. The easiest way to do this is to point your finger at a fixed point on the opposite side of the room. Cover (or wink) each eye in turn. If you no longer appear to be pointing at the object, the eye you have closed is your dominant one.
It is worth noting that eye dominance is often not quite this straight forward in some individuals; your shooting instructor will be able to help you determine yours.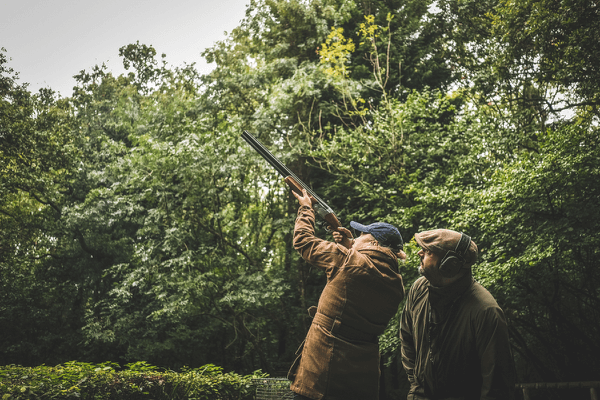 Stance
Once you've determined your dominant eye, it's crucial you perfect your stance. The best way to do this is to lead with the opposite side to your dominant eye; if you have your gun on the right side of your body, lead with your left foot and vice versa.
Your weight should be placed on your front foot, which should be pointing towards the 'kill zone' (where you intend to hit the clay). Getting your stance right will undoubtedly help you follow the flight of the clay.
Gun mount
The key to gun mount is consistency. You should be able to mount your gun in the same place every time; if you mount it inconsistently, this will have repercussions for your shooting. Building up muscle memory is the way to ensure a consistent gun mount and of course the best way to build this is with lots of practice!
Reading the clay
Understanding where the clay is going to be flying is another key to success. Always watch the bird before you shoot. As you watch it try to work out where the clay is coming from and travelling to. Assess how fast it's going and notice whether it veers or to the left or right at any point. Again, your instructor will be able to help you 'read the clay' until you are confident enough to assess this yourself.
Relax and enjoy
You're trying something different and learning an entirely new skill so the most important thing is to enjoy it! Once you begin to relax you'll find your confidence will grow and it will be easier to put the above points into practice. You'll soon be hitting those clays in no time!
Lady's Wood Shooting School offer excellent tuition for beginners. To find out more or to book your lesson get in touch with us by calling 01454 294546 or email shoot@ladyswood.co.uk.