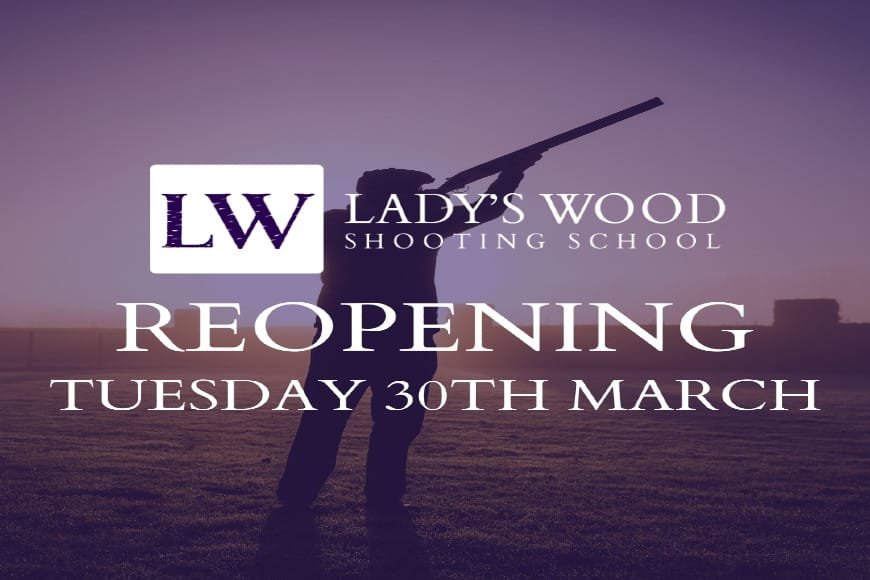 Feb
25
Lady's Wood Shooting School set to reopen Tuesday 30th March
25th February 2021
0 Comment(s)
After the prime minister's broadcast and publication of the roadmap out of lockdown at the beginning of the week, we're delighted to say we will be reopening our doors from Tuesday 30th March, for lessons, pay and play and caddied rounds (maximum groups of 6). 

After a tough few months, we know many of you will be eager to pick up your gun and get back out shooting those clays. And with plenty of outdoor space and COVID-secure measures still in place, we're confident we can provide the level of enjoyment and service you've all come to associate with Lady's Wood, whilst helping you to remain safe. 

As well as our usual offerings here at the school, we have lots lined up in the coming months, including our ever-popular simulated game days and our select group optimisation dates.  We're predicting a very busy spring and summer for the school so if you want to book in for a lesson or any of the services or events mentioned, we recommend getting in touch as soon as possible. Give us a call on 01454 294546 or email shoot@ladyswood.co.uk.

We can't wait to be back!