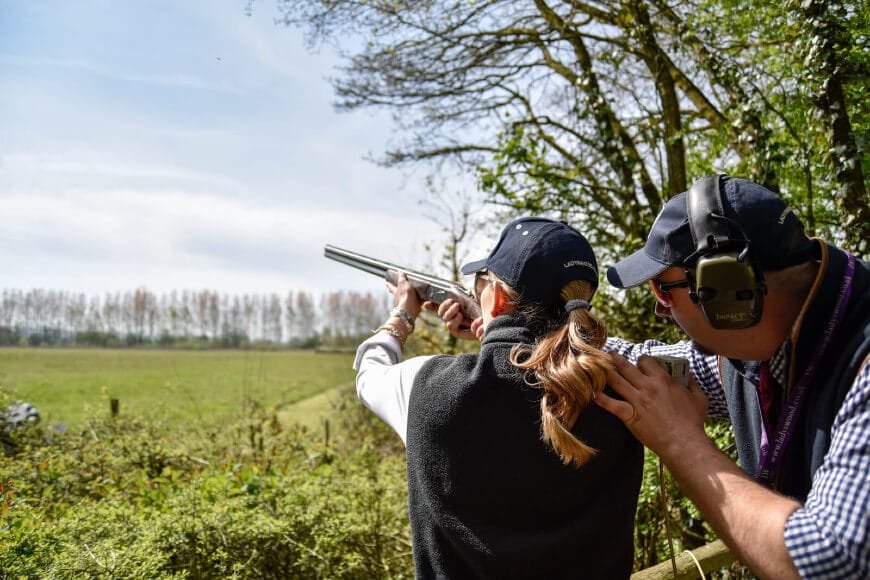 Jun
08
Meet The Team – Chris Hanks, Manager and Shooting Instructor
8th June 2017
0 Comment(s)
We would like to share with you a little bit more about our team. This week, we introduce Chris Hanks, Lady's Wood manager and shooting instructor.
Born in Herefordshire, Chris has been involved in shooting his entire life. He was brought up on a shooting estate where his father was, and still is, head keeper.
A lifetime of experience
When most children were out playing football, Chris was helping on the shooting. Duties included feeding, dogging in and checking pens. He learnt to shoot shotguns and general fieldcraft under the watchful eye of his father. Shooting really does run through his veins.
On leaving school, Chris attended Hartpury College. Here he studied a National Diploma in Conservation and Habitat Management. He was awarded a bursary from the Royal Forestry Society for his forestry work, which enabled him to achieve his chainsaw training.
At this time, Chris also began working at the Badminton Estate for the Duke of Beaufort around his studies. He was employed on the game shoot as a keeper during the busy rearing season.
Chris then attended the University of Cumbria at Newton Rigg, where he studied Game and Wildlife management. Here he began beating at a number of local shoots, including a grouse moor. He also ran the college shoot throughout the season, to earn some extra money.
Chris had been beating since he was old enough to "keep in line". He began loading on a number of shoots when he was just 17. Since then he has continued to load and instruct game shooting on estates up and down the country.
Upon leaving university in 2002, Chris joined a DEFRA agency, working in wildlife disease research. Starting from the bottom, he worked his way through the ranks to eventually hold the Field Operations Manager role.
In early 2008, Chris was introduced to Ernie Hemmings who had a vacancy for a gamekeeper. Chris was looking for something to keep him busy outside of his general work and jumped at the chance to further his gamekeeping career. Under the stewardship of Chris, they transformed the shoot into one of very high quality.
In early 2013, Ernie offered Chris the opportunity to make a full time move from DEFRA into the shooting industry. May 2013 saw him join Lady's Wood Shooting School.
Advanced APSI instructor
To extend and enhance his 15 years of loading and instructing experience Chris attended several week-long training courses provided by the Association of Professional Shooting Instructors (APSI), including its advanced training course which has only been completed by some 150 people in total.
Chris quickly adapted to his role as manager and instructor, developing his own style of coaching and instructing. He has built a very loyal following of clients who enjoy his knowledge and laid back but concise coaching style. Although very much a game shooting specialist, Chris is a very competent clay shooting coach too.
To date, Chris boasts nearly 750 days experience in the field and a lifetime's experience of game-keeping and shoot management. Chris uses his experience and knowledge to plan and host simulated game days, off-site charity days and private events. He also runs the successful Lady's Wood Sporting Agency.
Book a lesson with Chris Hanks
Whether you are new to game shooting or a seasoned shot, Chris is the man for you. He'll be happy to coach you here at Lady's Wood in our magnificent 55 acres or by your side on a shoot.
To book your lesson or infield tuition with Chris Hanks, please call 01454 294546 or email: shoot@ladyswood.co.uk